Category / Medium: Furniture, Metals, Mixed Materials, Sculpture, Weaving, Welding
Favorite Nearby Restaurant: Betterday Coffee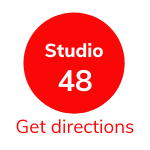 Emily Edson (b. Pittsburgh, PA, 1989) is a visual artist and spatial designer based in Santa Fe, NM. Mixing the art of welding with weaving, she creates pieces that are both soft and strong. Rooted and sometimes wild. Tender but also heavy. With a strong focus on materials and color, Emily loves to juxtapose natural dyes with hot pink construction twine. While her furniture and spatial designs are created with accuracy, the weavings she builds onto these pieces are more fluid. Showcasing the beautiful intersection of structural rigidity and a thoughtful mess.
Edson earned a BA in Communication from The University of Pittsburgh and an MFA in Interior Design from Pratt Institute in Brooklyn. She has over nine years of integrated marketing experience ranging from set design to large-scale events. Bridging the art of communication and design; she excels at building + managing relationships, communicating visually, and always staying curious. When she isn't designing or creating she can be found biking, working in her garden, or walking with her sweet dog Olive. Her favorite color combinations are cardboard paired with bright colors. She is happily influenced by the industrial aesthetic of her hometown, Pittsburgh and scenes from the desert.