COMMEMORATE THE 2018 SANTA FE STUDIO TOUR BY ORDERING A "COLLECTOR'S EDITION" PRINT OF
"TILTED CLIFF"
BY SANTA FE STUDIO TOUR ARTIST SANDRA SCHROEDER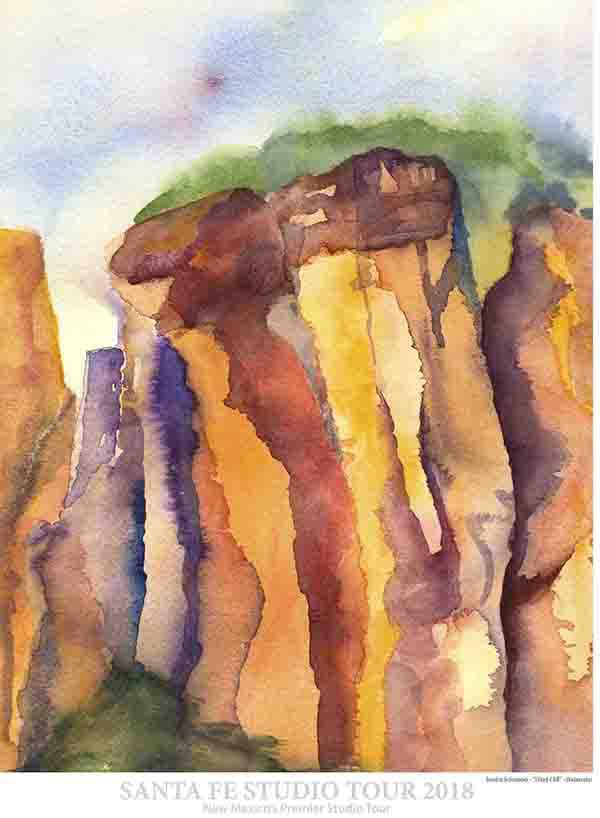 About The Artist:
Sandra Schroeder's inspiration comes from the timeless beauty of the land and nature in the southwest. Grounded in years of watercolor Plein Air painting, Sandra draws upon the earth images she has stored to paint intuitive and expressionistic watercolors and watercolor collage. "I like watching what the colors will do, so I tend to paint very loosely".
About "Tilted Cliff"
"Having painted many cliffs on location at Ghost Ranch in Abiquiu NM, these forms are imprinted on my mind. On this day I approached a white sheet of paper in my studio and decided to paint a cliff intuitively from memory, interactively with a lot of pure color, darks and lights, ins and outs to see what the colors did, the cliffs decided to tilt on their own, the magic of watercolor."
Ordering Information:
All proceeds go to the Santa Fe Studio Arts Collective General Fund to support the Santa Fe Studio Tour.
Options available:
Collector's Limited Edition Giclee - 17" x 22" Fine Art Print on enhanced Matte Paper. Only (25) numbered and signed Giclee Archival Prints will be offered.
$60 (free shipping!) Click here to purchase your Limited Edition Giclee!!
Collector's Poster - 12" x 16" digital press toner print on 100# cover stock recycled paper.
$30 (free shipping!) Click here to purchase your 12" x 16" poster!!