COMMEMORATE THE 2019 SANTA FE STUDIO TOUR BY ORDERING A "COLLECTOR'S EDITION" PRINT OF
"COTTONWOODS"
BY SANTA FE STUDIO TOUR ARTIST LAURINDA STOCKWELL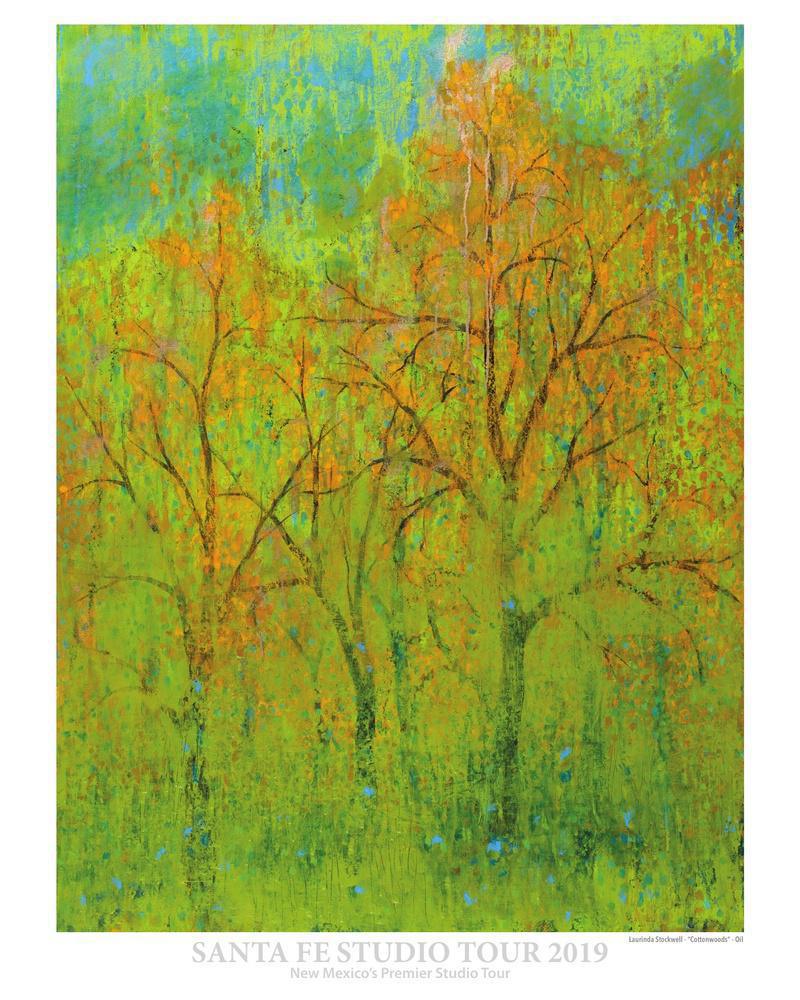 About The Artist:
I'm a mixed media artist working in several mediums but most of my artwork is informed and inspired by the Northern New Mexican natural world. Every day here unfolds to reveal its mysteries to me.
Artist's Process:
"I love the inquiry and exploration of finding a "suitable" world for my relentless curiosity of moment, movement, and matter. As a digital mixed-media artist working with a variety of mediums on various substrates such as board, plexi-glass, aluminum, canvas, and more, my wanderings may include bits of human story, autobiography, strange juxtapositions, and the process of intermingling layers of disparate information. I continue to be fascinated with the more subtle nuances of human expression, gesture, action, interaction, and reaction.
The various series of work Morningstar, Emmally, The Gatherings, The Joy Series, and my nature images cross pollinate in my studio and intermingle on the walls. Layered work may include photo manipulated imagery, monoprints, acrylic grounds, pigments, spray paint, acrylic paint, pastel, ink, pencil, and collage."
Ordering Information:
All proceeds go to the Santa Fe Studio Arts Collective General Fund to support the Santa Fe Studio Tour.
Options:
Collector's Limited Edition 16″ x 20″ Fine Art Print on Enhanced Matte Paper with Archival Inks. Only (25) numbered and signed Fine Art Prints will be offered. $60 (free shipping!). Click here to purchase your 16" x 20" Limited Edition Fine Art Print!!
Collector's Poster - 12" x 15" digital press toner print on 100# cover stock recycled paper.
$30 (free shipping!) Click here to purchase your 12"x15" poster!!