COMMEMORATE THE 2021 SANTA FE STUDIO TOUR BY ORDERING A "COLLECTOR'S EDITION" PRINT OF
"COSMIC DOG #1"
BY SANTA FE STUDIO TOUR ARTIST SELENA ENGLEHART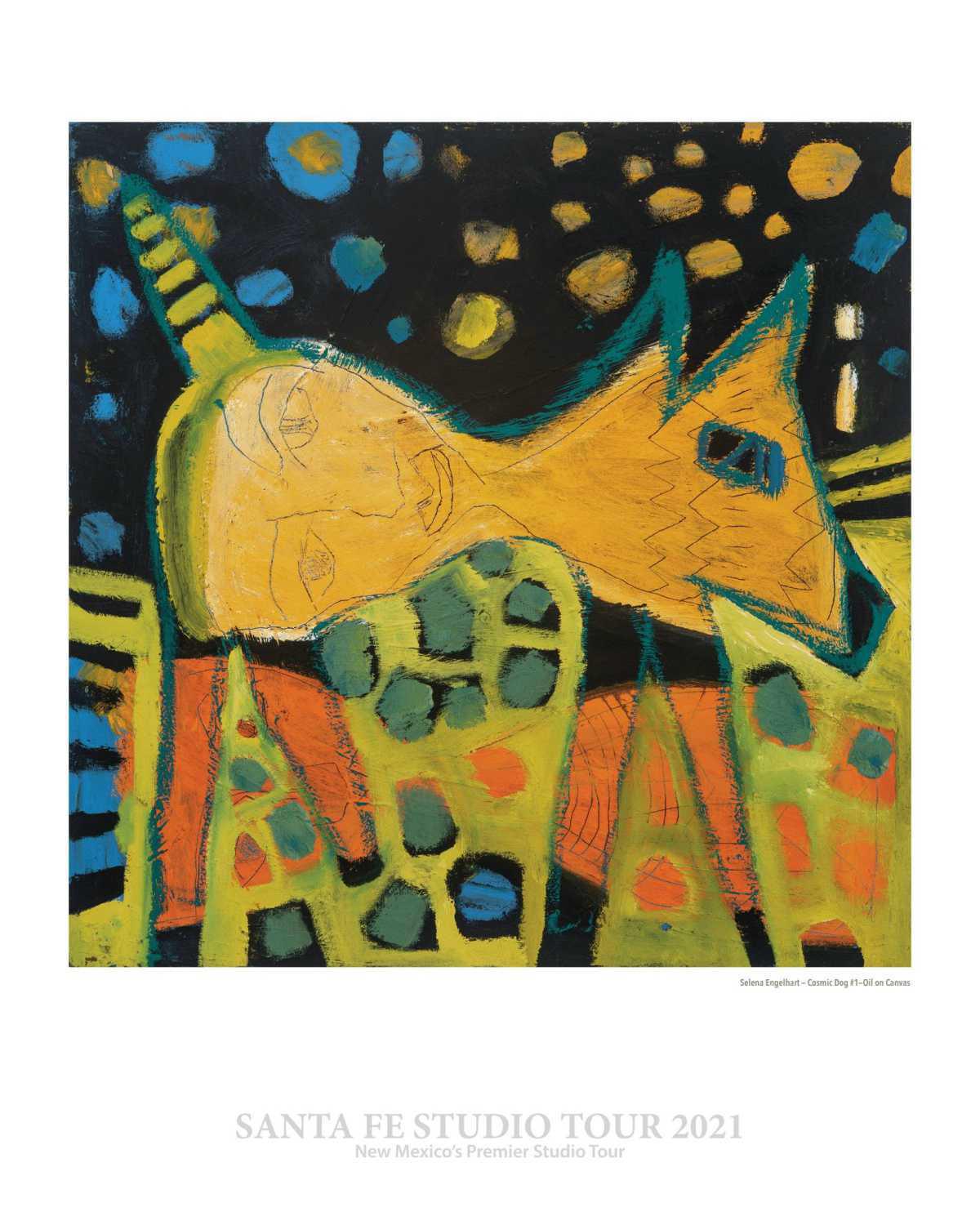 About The Artist:
I have painted all my life. I grew up in a musician family. At this moment my creative inspiration comes from my dreams. I have a deep understanding of archetypal language, astrology and cosmic landscape. Imagery includes animals, trees, nature and and my own personal cosmology as the dreamer. I have been working on this large body of work since Spring 2020, featuring ink and watercolor on paper.
About This Piece:
I painted this work after I moved to the Bay Area for the first time after thirteen years in Santa Fe. I walked my dog at dog park and we found ourselves a bit in shock getting used to the urban vibe. I painted a cosmic dog series at that time. The dog holds me within it…cosmic because it walks in another world/reality, walking to a very different rhythm. I learned how to survive in the new urban landscape walking my dog at dawn in the city.
Ordering Information:
All proceeds go to the Santa Fe Studio Arts Collective General Fund to support the Santa Fe Studio Tour.
Options:
Collector's Limited Edition 16" x 20" Fine Art Print on Enhanced Matte Sheet with Archival Inks. Only (25) numbered and signed Fine Art Prints will be offered. $60 (free shipping!) Click here to purchase your 16" x 20" Limited Edition Fine Art Print!!
Collector's Poster - 11" x 14" digital press toner print on 100# cover stock recycled paper. $30 (free shipping!) Click here to purchase your 11"x14" poster!!